The Fiery Furnaces – Bad Bonn, 4.10.09
Das nächste Projekt der Geschwister Friedberger wird ein 'Silent Album' sein (man bekommt dann nur die Noten und etwaige Instruktionen geliefert). Das aktuelle –'I'm Going Away' –  das sie derzeit live präsentieren, ist alles andere als silent, obwohl manch Nörgler im direkten Vergleich zum vertrackten Vorgänger oder dem Konzeptalbum mit Texten/Gesprächen ihrer Großmutter eine Tendenz hin zum Konventionellen heraushören mag.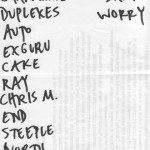 Da die FF die Kunst des Zitats seit ihrem Debut immer weiter perfektionieren und zudem für einen Rough Trade/Thrill Jockey – Act ein hohes Maß an Verquerheit beweisen, sollte man das Zurückkatapultieren in die Frühsiebziger in dieser Linie sehen. Auf der kleinen Bühne des für sein eklektisches Programm und die Geographie (Where the hell is Bad Bonn? Antwort: Am Ende  einer Straße, die zum Schiffenensee führt, wo das ehemalige Kurbad bei der Konstruktion des Stausees unter Wasser gesetzt wurde) schon einen weit über die Landesgrenzen hinaus bekannten Bad Bonn, kann man die Band in gleicher Besetzung wie auf der Platte –  Eleanor Friedberger (Gesang), Matthew Friedberger (Gitarre, Gesang), Jason Loewenstein (Bass) und Robert D'Amico (Schlagzeug) –  hochkonzentriert und energetisch erleben. Zuvor saßen sich noch hinter dem Merchandisetisch und unterhielten sich mit dem Publikum bei dem einen oder anderen Bier.
Rätsel über Rätsel, wie die Sängerin die ellenlangen Texte, die zudem in den Refrains noch meist mehr Wörter als eigentlich möglich unterbringen, behalten kann und nicht einmal ins Stottern gerät. Eleanors Gesangsstil bleibt trotz der emotionalen Thematik von 'I'm Going Away', der Bruch einer Zweierbeziehung, stets distanziert-ironisch.  Der Bruder mimt den Stoiker, ist aber der uneingeschränkte musikalische Chef und bei jedem der permanenten und abrupten Stil – und Rhythmuswechsel genügt ein Augenzwinkern und der Bassist und Schlagzeuger folgen. In der Traditon von Jad Fairs' Half Japanese oder Kramers' Bongwater kultivieren die FF ihre Version der Popart; die scheinbar uneingeschränkte Verehrung für Popmusik und einen hohen Grad an Sophistication.
Die wundersamen Absurditäten der Platten, wo sich ausuferende, bizarre Geschichten musikalisch in psychedelisch-verdrehte Irrgärten, Miniopern oder Musichallkitsch entfalten, sind in der Liveversion stringenter, aber nicht weniger vertrackt und faszinierend.