Ein weiteres Jahr Pandemie hat uns in unsere jeweiligen kleinen Universen gefesselt und wenig Spielraum für Überraschungen geboten. Live Events waren selten und fanden in einem merkwürdig gedämpften Rahmen statt. Sind das vorübergehende Zustände oder hat sich die Welt dahingehend geändert, dass wir uns mit diesen neuen Gegebenheiten auch in Zukunft arrangieren werden müssen? Welcher Konsens lässt sich noch erreichen in einer gefühlt zersplitterten Gesellschaft, deren äussere Extreme den Echoraum der Sozialen Medien besetzen und bewirtschaften?
Wir bewahren uns trotz allem einen verhaltenen Optimismus, gepaart mit Neugier und der Offenheit für Experimente, und wünschen uns und allen ein neues Jahr voller positiver Überraschnungen.
Music

Heta Bilaletdin – Nauhoi
---

Warrington Runcorn New Development Plan– Interim Report, March 1979
---

Mikis Theodorakis – Axion Esti
---

The Chills – Scatterbrain
---

Gaute Granli– Blusens Fasong
---

Sarah Terral– Le Ménisque Original
---

Phew – New Decade
---

Igor Stravinsky – Le Sacre du Printemps
---

Hattie Cooke– Bliss Land
---

Filipe Felizardo– Red Cross
---

Maria Da Rocha– No Lasting Name
---

Niagara– 1807
---

Teresa Winter – Motto Of The Wheel
---

Dohnavùr– The Flow Across Borders
---

Dry Cleaning – New Long Leg
---

Blanketman – National Trust
---

Faust– 1971-1974
---

José Mauro – A Viagem Das Horas
---

Goldblum– Of Feathers And Bones
---

Sons Of Kemet – Black To The Future
---

Cassandra Jenkins– An Overview On Phenomenal Nature
---

Tirzah – Colourgrade
---

Various Artists – Antologia De Música Atípica Portuguesa Volume 3: Canto Devocionário
---

Aquaserge– The Possibility Of A New Work For Aquaserge
---

Tassos Chalkias – Divine Reeds
---

Fatigues – L'Rain
---

Rebecca Vasmant – With Love From Glasgow
---
Film/TV

Todd Haynes– The Velvet Underground
---

Catarina Vasconcelos – A Metamorfose Dos Pássaros
---

Just Philippot – La Nuée
---
Christian Petzold – Udine
---

Brad Ingelsby – Mare of Easttown
---

Jac Schaeffer – WandaVision
---

Hwang Dong-hyuk– Squid Game
---

Sarah-Violet Bliss/Charles Rogers/Michael Showalter – Search Party
---

Σωτήρης Τσαφούλιας – Έτερος εγώ: Χαμένες Ψυχές
---

Kaneto Shindô – Onibaba (1964)
---

John Wilson – How To With John Wilson
---

Ryûsuke Hamaguchi – Drive my Car
---

Leos Carax– Annette
---

Jesse Armstrong – Succession S.3
---

Shaka King – Judas and the Black Messiah
---

Ashley Lyle/Bart Nickerson – Yellowjackets
---
Books

Mariana Enriquez – Nuestro Parte Da Noche (bzw. A Nossa Parte Da Noite)
---

Ulrich Peltzer – Das Bist Du
---

Μαρία Ευθημίου – Ρίζες και Θεμέλια
---

Angela Lehner – Vater Unser
---

David Peace– Tokyio Redux
---

Benjamin Berton– Dreamworld
---

Cátia Vieira– Lola
---

Samanta Schweblin– Siete Casas Vacías (bzw. Sete Casas Vazias)
---

Jhumpa Lahiri – In Other Words
---

Olaf Arndt – Unter Deutschland
---

Paulo Moura – Extremo Ocidental
---

Μιχάλης Μακρόπουλος – Μαύρο Νερό
---

George Simenon – Betty/Der Mörder/Die Marie Vom Hafen/Das Haus Am Kanal
---

Πέτρος Μάρκαρης – Ο Φόνος είναι Χρήμα
---

Rachel Cusk – Second Place
---

Colston Whitehead – Harlem Shuffle
---

Robert Louis Stevenson – Travels with a Donkey in the Cévennes
---
Heta Bilaletdin – Nauhoi
Goldblum – Of Feathers And Bones
Obwohl nicht spezifisch unter den ständigen, nicht zuletzt kulturellen, Lockdowns entstanden, klingen die letzten beiden Produktionen des Jahres 2021aus dem Hause Kraak, dem belgischen Flaggschiff für Offstream-Szenen, wie die perfekte musikalische Begleitung für schüchterne Ausbruchversuche aus dem Home Office oder einsame nächtliche Tanzversuche im eigenen Wohnzimmer.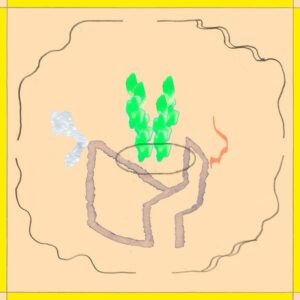 Heta Bilaletdin ist in Kreisen der belgischen und finnischen Musiksubkultur wahrlich keine Unbekannte. Zusammen mit Jonna Karanka (deren exzellentes eigenes Album Plz Tell Me in der Vinylversion ebenfalls auf Kraak erschien) und Katri Sipiläinen spielt sie mit Olimpia Splendid den eigenwilligsten und fesselndsten Post-Punk abseits der Britischen Insel. Daneben ist sie, der Kunstschule in Helsinki entsprungen, neben der Musik auch in der Film- und Kunstszene involviert. Nauhoi klingt erstaunlich homogen und dafür, dass das Album über eine lange Zeit mit unterschiedlichen Equipment und in verschiedenen finnischen Städten aufgenommen worden ist, wie aus einem Guss. Heta Bilaletdins Musik setzt sich patchworkartig aus verschiedenen Experimenten mit Musique Concrète, Home Recordings, diversem musikalischen Equipment, Dub und Gesang zusammen und klingt trotz allem wilden Forschergeist songorientiert mit einer besonderen Ader für Melodien versehen.
Die eckigen New Wavigen-Bassmelodien, der schwurblige, blubbernde, immer leicht eiernde Mix und der schräge Gesang Heta Bilaletdins auf Finnisch entfalten dann auch einen unwiderstehlichen Charme mit Suchtcharakter.
Ein hässliches, mit Pfauenmuster besticktes, Kissen, das vielleicht vom gleichen Flohmarktstand stammt, wo das Rotterdamer Duo Goldblum ihre Kassetten aus irgendwelchen Nachlässen, die dann als Ausgangsmaterial für ihre Musik dienen, bezieht, ziehrt die Hülle von Of Feathers And Bones. Marijn Verbiesen und Michiel Klein spielen auch zusammen bei Sweat Tongue, die sich vom Mythos der New Yorker No Wave – Szene nähren und Erstere legte mit Red Brut im vergangenen Jahr eine der überzeugendsten Platten zwischen Musique Concrète und unkonventionellen Montagen vor.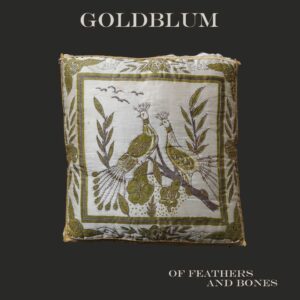 Goldblum aber ist wieder ein ganz andere Geschichte. Das zweckentfremdete Material der Kassetten mischt Michiel Klein zu verwaschenen Tapeloops, die als Grundlage das Rhythmusgerüst für die poetischen und durchwegs surrealen Melodramen der Songs bilden. Wie die abgenutzen Tonspuren der Kassetten verschwindet jegliche Eindeutigkeit und Klarheit irgendwie in einem Nebel von stoischen Beats, abwechseln süßlichem Gesang und scheingar teilnahmelosem Geschichtenerzählen, kleinen, über die Loops gemischten eingängigen Melodien oder Noiseausbrüchen, wild montierten Klangkollagen oder mantraartig wiederholten, merkwürdigen Slogans. Marjin Verbiesen und Michiel Klein definieren mit Of Feathers And Bones überraschenderweise das in die Jahre gekommene Genre der Library Music/Hauntology nochmals neu und auf erfrischende Weise.