Gilroy Mere – The Green Line
The Hardy Tree – Through Passages Of Time
Jon Brooks – Autres Directions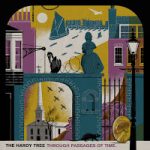 Das London, das man noch in den 1980ern als eine heterogene architektonische Mischung aus viktorianischen Prachtbauten, typischen Reihenhaussiedlungen, brutalistischen Nachkriegs-Towerblocks und urbanen Brachflächen – die Hinterlassenschaft der Bombenangriffe aus dem Zweiten Weltkrieg oder später aufgrund Verwahrlosung entstanden – kannte, ist längst passé.
Fragmentarisch und widersprüchlich wirkte die Stadt damals an vielen Ecken; ein Moloch, der noch Platz ließ für andere Lebensweisen als der kapitalistischen. Squatting ist kein Thema mehr in London, Obdachlosigkeit aber mehr denn je; die Kreativität wird beinahe ausschließlich dafür aufgewendet, einen bezahlbaren Wohnraum zu finden und die Lösung ist oftmals die, dass man sich zu Dritt eine 1-Zimmer-Wohnung teilt und in Schichten schläft. Die Halb-Wildnis des East Ends oder South Londons wurde unter dem Deckmantel von Urban Regeneration Schemes in eine von Luxuswohnungen und Malls verwandelt. Das sind alles keine Neuigkeiten, banale Fakten.
Music

phew – live @cave12 & light sleep
---

Michael Head & The Red Elastic Band – live@the invisible wind factory & adiós señhor pussycat
---

Bérangère Maximin – Frozen refrains
---

Razen – Endrhymes
---

King Krule – The OOZ
---

Children of Alice – Children of Alice
---

Aine O'Dwyer – Gallarais
---

Anthony Moore & The missing present band – The present is missing
---

'Eme – Domingo à tarde
---

Νίκος Παπάζογλου – Η εκδίκηση της γυφτιάς
---

Richard Skelton – Towards a frontier
---

Sampha – Process
---

Midori Takada – Through the looking glass
---

Alice Coltrane – The ecstatic music of
---
Film/TV


  Henk Handloegten, Tom Tykwer, and Achim von Borries – Babylon Berlin
---


Valeska Grisebach – Western
---

Jonathan Entwistle and Lucy Tcherniak – The end of the f***cking world
---


Pedro Pinho – A fábrica de nada
---

Sarah-Violet Bliss, Charles Rogers, and Michael Showalter – Search Party
---

Valérie Massadian – Milla
---

Bruce Miller – The Handmaid's Tale
---

Jaffe Cohen, Ryan Murphy, and Michael Zam – Feud
---

Yannis Economides – To mikro psari (Stratos)
---

Andrew Sodroski – Manhunt: Unabomber
---

David E. Kelley – Big Little Lies
---

Richard Price and Steven Zaillian – The Night of
---

Joe Penhall – Mindhunter
---

Sally Potter – The Party
---

Jordan Peele – Get Out
---

Mark Frost and David Lynch – Twin Peaks
---
Books

Alan Moore – Jerusalem
---

Cosey Fanni Tutti – Art Sex Music
---

Jeff VanderMeer – Annihilation
---

Paulo Varela Gomes – Passos Perdidos
---

Jhumpa Lahiri: In Other Words
---

David Keenan – This is memorial device
---

Άλκη Ζέη – Με μολύβι φάμπερ νούμερο δύο
---

Osato Toshiharu – Gasenta Wasteland
---