Gilroy Mere – The Green Line
The Hardy Tree – Through Passages Of Time
Jon Brooks – Autres Directions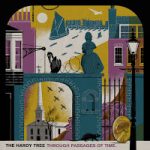 Das London, das man noch in den 1980ern als eine heterogene architektonische Mischung aus viktorianischen Prachtbauten, typischen Reihenhaussiedlungen, brutalistischen Nachkriegs-Towerblocks und urbanen Brachflächen – die Hinterlassenschaft der Bombenangriffe aus dem Zweiten Weltkrieg oder später aufgrund Verwahrlosung entstanden – kannte, ist längst passé.
Fragmentarisch und widersprüchlich wirkte die Stadt damals an vielen Ecken; ein Moloch, der noch Platz ließ für andere Lebensweisen als der kapitalistischen. Squatting ist kein Thema mehr in London, Obdachlosigkeit aber mehr denn je; die Kreativität wird beinahe ausschließlich dafür aufgewendet, einen bezahlbaren Wohnraum zu finden und die Lösung ist oftmals die, dass man sich zu Dritt eine 1-Zimmer-Wohnung teilt und in Schichten schläft. Die Halb-Wildnis des East Ends oder South Londons wurde unter dem Deckmantel von Urban Regeneration Schemes in eine von Luxuswohnungen und Malls verwandelt. Das sind alles keine Neuigkeiten, banale Fakten.
Charles Vaughan – Haunted Woodland Volume Three
Jon Brooks – Shapwick
Wayside & Woodland, ein Label aus Staffordshire, das von dort ansässigen Künstlern betrieben wird, operiert mit CD-R's und Schallplatten in Auflagen, die sich an einer Hand abzählen lassen. Die musikalischen Interessen von epic 45, E.I., Heath, My Autumn Empire, The Toy Library, P Manasich und Charles Vaughan kann man ungeniert den Genres Post-Rock, Avant-Folk, Field Recordings und Ambient zurechnen. Wer sich hinter dem Künstlernamen Charles Vaughan verbirgt, weiß man nicht nicht wirklich, sein Album ist aber das inzwischen dritte der Haunted Woodland-Serie des Labels und herausragend.