Pere Ubu – The Long Goodbye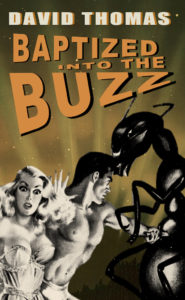 Beim Méteo Festival in Mulhouse im August 2017 kommt David Thomas unsicher und mit Stock auf die Bühne und bestreitet das ganze Konzert auf einem Stuhl sitzend. Im Publikum ist jedem klar, dass es um die Gesundheit des Meisters nicht gut bestellt ist. Der Auftritt ist trotzdem energetisch und von gewohnter Perfektion und Professionalität. 20 Years In A Montana Silo, das damals aktuelle Album, darf als wütend-beißende Reaktion auf die USA Today interpretiert werden und verfeinert nochmals die Affinitäten der späten Pere Ubu: schräger Garagenrock mit einem psychdelischen Einschlag, fragile Balladen und Soundexperimente.
Danach, auf der ausgedehnten US-Tournee, wird David Thomas dann tatsächlich mit einem lebensbedrohlichen Zustand in ein Krankenhaus eingeliefert und die Genesungsprognosen sind äußerst vage.
Nichtsdestotrotz wird Thomas nach Hause entlassen und ist in der Lage, in seinem Studio an neuem Material zu arbeiten; seine Art der Rehabilation. Für die Komplettierung der Songs lädt er die Bandmitglieder und einige Gäste ein. The Long Goodbye, frei nach Chandler, einem der Säulenheiligen Thomas, wird ein lyrisch ausgefeiltes und kurzgeschichtenartig aufgebautes Album und soll ein würdigs Schlußzeichen zu der über vierzigjährigen Bandgeschichte setzen.
Dann aber verbessert sich der gesundheitliche Zustand Thomas' soweit, dass an eine Präsentation vor Publikum gedacht werden kann.
The Long Goodbye ist nicht nur aufgrund der schwierigen Bedingungen, unter denen das Album entstanden ist, einer der Höhepunkte im langen Schaffen der Band.
Einerseits knüpft es an die sympathisch-verschrobenen, introspektiven Solo-Alben der 1980er an; Monster Walks The Winter Lake und Blame The Messenger kommen einem da in den Sinn. Bekanntlich legte Pere Ubu damals eine Schaffenspause ein und David Thomas umgab sich mit Musikern aus dem Jazz – und Recommended Records-Umfeld; eine seiner kreativsten Phasen. Marlowe, das von einem Akkordeon begleitete Lovely Day oder Skidrow-On-Sea fallen unter diese Kategorie.
Dann gibt es die schrägen Rock- und gar sinistren "Technonummern" (What I Heard On The Pop Radio, Flicking Cigarettes At The Sun), in der Art wie man sie von den letzten Alben kennt, in denen ein treibender Beat auf schrille Synthesizer und die noch schrillere Stimme trifft.
Songs wie Road Is A Preacher und The World (As We Can Know It) liegen dazwischen und lassen Thomas' Gabe, Texte zwischen surrealen, magischen Momenten und trockenem Humor zu schreiben, zur Geltung kommen. Bei Who Stole the Signpost? spielt im Background eine schöne Klarinettenmelodie über einem dichten, zerfahrenen Klangteppich, fast schon eine futuristische Fusion von Elektronik, Rock und Ballade, und David Thomas erzählt dessen unbeeindruckt in Spoken Word-Manier von den persönlichen und globalen Katastrophen.