The Drellas – Violence Is Art (Single auf AntiPop)

Drella war, wie man weiß, der Spitzname von Andy Warhol. The Drellas nun sind das neue Projekt von Tommy Scott, der in den Neunzigern von Liverpool aus mit seiner Band Space eine ironische Antwort auf die Britpop -Welle aussandte. Im Gegensatz zu den 1990ern sind die Zeiten heute deutlich bescheidender, so dass im gleichen Maße die Musik wieder relevanter wird. Die erste Single des Quartets, lupenreiner Art-Punk mit Hang zur Hysterie, macht auf das kommende Album neugierig.
Brigitte Fontaine- Prohibition (Album auf Polydor France)
Giftig, spröde und sich mit angesagten Gästen umgebend – diesmal Grace Jones und Katerine – ist Madame Fontaine so zeitlos und kompromisslos wie gewohnt. Nicht Chanson, nicht Rock, nicht Jazz und schon gar nicht Pop, BF ist seit Jahrzehnten für ihre eigene Nische verantwortlich.
Double Nelson – Pousser La Voiture (Album auf doublenelson.com)
Live eine grandiose Trash-Show, gibt sich das Frau/Mann-Duo aus Nancy auf ihrem sieben Album – sie sind schon zwanzig Jahre im Geschäft – handzahmer, aber nicht minder unterhaltsam. Billigelektronik, durch selbstgebaute Effektgeräte gejagte Instrumente und Stimmen zerschreddern die sich aus einer kruden Mischung aus Rockabilly, Disco und Swamprock speisenden Songs.
Mordant Music – SyMptoMs (Album auf Mordant Music)
Songorientiertes, melancholisches Album des Chefs des kleinen, aber stilprägenden Elektroniklabels, auf den Spuren von Disco Inferno und Bark Psychosis, ohne die eigenen Ursprünge, die in Dubstep-Hypriden und dem Plündern und Mixen von alten TV/Radiodokumenten liegt.
Nine Rain – VI
Nachdem die Aktivitäten von Tuxedomoon in den 1990ern schon eine Weile brach lagen und deren Mitglieder nach und nach Brüssel verließen, um sich in alle Kontinente zu verstreuen, entstanden verschiedene Seitenprojekte. Steven Brown zog es nach einer kurzen Rückkehr in seine Geburtsstadt Chicago 1993 nach Mexiko, wo er sich zuerst vor allem politisch engagierte.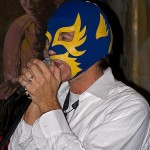 Élise Caron & Lucas Gillet – A Thin Sea Of Flesh
Élise Caron ist eine künstlerisch Mehrfachbegabte oder sollte man zeitgeistig polymath sagen: Sängerin, Komponistin, Dichterin, Schauspielerin, Flötistin und Komödiantin; ein wohl nur in Frankreich pannenfrei bestreitbarer Werdegang. Mir spät erst als geniale Ko-Gesangspartnerin Albert Marcoeurs' zur Gehör gekommen – wo sie auf 'Ma Vie Avec Elles' aber auch Flöte spielte – hinterließ sie einen umso nachhaltigeren Eindruck und ich bin seitdem auf jedes Lebenszeichen neugierig.