DDAA – Pourriture Cubique
John Avery – Jessica In The Room Of Lights
Ruth & Mushy – Far From Paradise
Mushy – Breathless
Thierry Müller / Aaron Moore – Today Is Yesterday's Tomorrow
Dass sich die drei Mitglieder von Déficit Des Années Antérieures bzw. DDAA – Jean-Luc André, Sylvie Martimeau-Fée, Jean-Philippe Fée bzw. JLA, SMF, JPF – in erster Linie als plastische Künstler, auch hinsichtlich ihres Wirkens als Musiker, verstehen, ist kein Widerspruch. Die Musik des Künstlerkollektivs, dass sich an der Akademie in Caen Ende der 1970er kennenlernte, vereint deren unterschiedlichen Vorlieben und Ideen aus Kunst, Literatur und Klangskulpturen. Über einen Improvisationsprozess modellieren sie dann diese so minimalistischen wie dichten Klanghörspiele zur unverkennbaren Marke DDAA.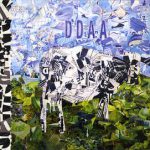 Das Londoner Angular Label, deren Betreiber während der Recherchen für ihren Minimal/Cold – Wave – Sampler tief in den Kassetten – und sonstigen Untergrund der Achziger abtauchten, verdienen sich auch für die Wiederveröffentlichung des subtil ironischen Meisterstücks Polaroid/Roman/Photo der (teils fiktiven) Formation Ruth (aka Thierry Müller) Lob. Thierry Müller / Ilitch beschreitet mit seinem neuen Album La Maieutique De La Quantique nun allerdings wieder einen ganz anderen Weg. Das Cover ziert das chaotische Durcheinander einer entrümpelten Wohnung. Tabula rasa ist zweifelsfrei auch das Motto der Musik. Bei den Live-Improvisationen – in der Besetzung Thierry Müller (Guitars, Keyboards), Patrick Müller (Elektrosonik, Synthesizer), Franq De Quengo (Drums, Electronics) und Fred Nipi (Analog Modular System, Noises) eingespielt – hat man es weder mit den new wavigen, noch den sphärisch elektronischen Stücken, die Müllers Ouevre auch ausmachen zu tun. La Maieutique De La Quantique ist in erster Linie eine karthartische, raue Gitarrenplatte. So staubtrocken produziert, dass selbst ein Steve Albini den Hut ziehen müsste, würde er sich für experimentelle Musik interessieren, dominieren Thierry Müllers erdige, fräsende Gitarrenattacken/Feedbacks. Störgeräusche, elektronische Verfremdungen und ein stoisches Schlagzeug fügen sich ein und beschwören eine punkig-apokalyptische Stimmung, die in ihrer unnachgiebigen, unheilschwangeren Düsterheit und Konsequenz an die Zeiten von Shub Niggurath, Univers Zero und Metal Urbain gemahnt. Auf dem 15 – minütigen pulsierenden, zentralen La Quantique De La Maieutique driftet Ilitch dann doch noch vom Planet Erde langsam in eine ferne, dunkle Galaxie.
ilitch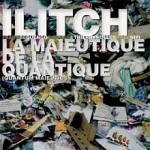 Thierry Müller – Hors temps/Out of time

Mitte der 1980er kursierte im Bekanntenkreis eine merkwürdig aufgemachte Platte: Ilitch – 10 Suicides. Die collagenhaft aufgemachte Hülle und das Beiheft spielten ironisch mit der dunkel-romantischen Idee, dem Leben irgendwie zu entkommen. Die Musik, eine schräge Mèlange von kautrockigen Elektronikpassagen, improvisatorisch anmutende Gitarrenstücken und unterkühltem New Wave Disco. Musik, Bezugspunkte und Intellektualität passten gut in den Kreis der anderen geschätzten Vertretern der 'New French Music' – Berrocal, Marcoeur, Ribeiro, Tazartès, Heldon, DDAA etc.