Control Unit – The Fugitives
Silvia Kastel  –  Take It
Bene Gesserit – Still Insane After All Those Years
Silvia Kastels (Voice, Synth., Beats) und Ninni Morgias (Guitar, Bass)  Obsession mit "Rots"-Industrial, d.h. der künstlerisch-interdisziplinären Abzweigung von Punk mit expliziten/politischen Inhalten, wie sie von Throbbing Gristle und Cabaret Voltaire als Reaktion auf die misslichen Zuständen in Großbritannien kreiert wurde, darf nicht als bloßes Kokettieren missverstanden werden, von zu konstant guter Qualität sind ihre zahlreichen Alben als Control Unit auf unterschiedlichsten Labels wie z.B. auch The Fugitives. Über eine tuckernde Beatbox, billigen Synthesizern und arg malträtierten Gitarrenlicks, also streng minimalistisch, rezitiert Kastell ihre Botschaften der dunkleren Natur. Die drei Stücke auf der Take It – Single von Silvia Kastel klingen ohne Morgias Gitarrenmetzeleien noch authentischer nach CV. Ultramarine ist Kastels und Morgias Label, das sie von ihrem italienischen Wohnort aus betreiben.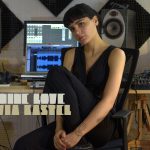 Mit Bene Gesserit – Alain Neffe und Nadine Bal – haben sie zwei der kreativsten Pioniere des Kassettenuntergrunds aus den Achtzigern für eine neue Produktion gewinnen können. Der Insane-Backkatalog wird ja ironischerweise seit einiger Zeit von internationalen Hipstern hoch gehandelt, nachdem Neffe ursprünglich beinahe von der Welt unbemerkt Kassetten hin- und her tauschte. Alain Neffe wuchs mit der experimentellen Musik der 1970er auf und hat sich nie mit Haut und Haaren dem Genre des Industrial verschrieben, seine unterschiedlichen Projekte – Human Flesh, Pseudo Code, Chopstick Sisters, Cortex etc. wichen immer von der reinen Lehre ab; elektronische Musik, Sound Poetry, Noise, Pop und Chanson wechselten sich als Stile wild durcheinander ab. Still Insane After All Those Years ist eine nicht minder heterophone Wundertüte. Vergleichbar mit zwei meiner persönlichen Schlüsselwerke der experimentellen französische Musik, Jac Berrocals Hotel Hotel und Video Aventures Camera, besteht das Album aus einer genialen Kompilation "schräger" Songs. Im Verbund mit den gespielten und geklauten Sounds schlüpft Nadine Bal in Rollen, die in schneller Folge kleine Gemeinheiten und Freundlichkeiten versprechen, halluzinieren, den Zustand der Gesellschaft definieren, sich mit einem durchgeknallten Maschinenparkt oder einem endlosen Garageband – Loop anlegen oder gar dem Chanson und dem Fado eine neue Komponente hinzufügen.
Control Unit – The Fugitives
Silvia Kastel – Take It, Bene Gesserit – Still Insane