Elysian Fields – Last Night On Earth
Jennifer Charles und Oren Bloedow geben seit einigen Jahren- weitgehend unbeachtet- das neben den Geschwistern Friedberger most-sophisticated gemischgeschlechtliche Duo. Mit der rhythmisch-modernen Adaption klassischer sephardischer Musik La Mar Enfortuna sind die New Yorker freilich auch einem breiteren, konservativeren Publikum geläufig (auch wenn der Boss von Tzadiks' Radical Jewish Culture – Serie sich und seine Künstler wohl 'file under avantgarde' einordnen würde). Die bluetone-ige, versponnene Musik, die jedes erdenkliche Genre zitiert ohne jemals die Grundstimmung aufzugeben und die lyrisch-skurrilen Texte, vorgetragen von einer modsüchtigen Charles' wiederum, die das Projekt Elysian Fields auszeichnen, genießen vor allem in Frankreich wertschätzenden Status. Last Night On Earth heißt das neuste Opus, wie schon der Vorläufer After Life' vielleicht weniger apokalyptisch als zukunftsversprechend gemeint, denn sind die Elysian Fields doch der Ort, zudem Helden und Künstler nach dem Tod gesandt werden. Elysianmusic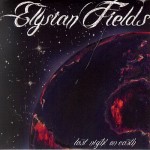 Half Asleep – Subtitles For The Silent Versions
Dunkel, versponnen, surreal ist die Stimmung auf Subtitles For The Silent Versions, dem nach einer sechsjährigen Pause, neusten und erstaunlichen Album Valérie Leclercqs. Die früher noch zu erahnenden Inspirationen durch amerikanische Slow Core-Giganten wie Low oder Jessamine sind passé, Choral- und Spektralmusik in all seinen Schattierungen ist angesagt. Leclercq spielte in den letzten Jahren u.a. mit Matt Elliott zusammen, der musikalisch ähnlich gelagerte Affinitäten auf seinem Songzyklus umsetzte. Doch ist die Musik von Half Asleep weit strenger und reduktionistischer angelegt. Akustische Gitarre und Piano bilden bei den meisten Stücken neben dezenten Ergänzungen mittels Trombone, Trompete, Flöte, Streicher und auch Haushaltsgeräten das Grundgerüst für subitile, aber komplexe und dramatische Kompostionen. Die Welt von Subtitles For The Silent Versions ist frostig, brüchig und die aufkommenden Assoziationen von einer dem Irrdischen beinahe schon entrückten Endzeitstimmung ähnlich der, der ähnlich aus der Zeit fallenden, Popol Vuh ist meisterlich inzeniert. Die Lyrics, Leclerqs' eigene wie auch die Zeilen aus Gedichten Emily Dickinsons', die ja bekantlich eine Biographie 'stranger than life' lebte, sind von gleicher Dichte.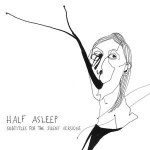 The Music Of JG Thirlwell
Für die bislang überzeugendste visuelle Umsetzung/Interpretation von J.G. Ballards The Atrocity Exhibition von Jonathan Weiss schrieb ein anderer J.G., nämlich Thirlwell, den Soundrack für diese Chronik über den mentalen Zusammenbruchs eines Arztes, der seine Patienten in eine Serie von bizarren Aufführungen einbindet. Ein Konstrukt des Filmes –  bestehend aus einem an einen Antennenmast montierten Stuhl, ein TV – Gerät, einer  Satellitenschüssel und einer Art Gartenzaun – steht immer noch auf dem Dach von Thirlwells Brooklyner Apartment.