film/tv

toshiaki toyoda

– i'm flash

shane carruth

– upstream color

gakuryu ishii

– isn't anyone alive?

armando jannucci

– veep

jane campion

– top of the lake

ulrich seidl

– paradies: hoffnung

allan cubitt

– the fall

olivier assayas

– après mai

noah baumbach

– frances ha

kenji uchida

– key of life

alfonso cuarón

 – gravity

harmony korine

– spring breakers

music

these new puritans

– fields of reeds & @ mousonturm frankfurt

nancy elizabeth

– dancing
saboten – floor (re-release)

richard dawson

– the glass trunk

aine o'dwyer

– anything bright or startling?

z

oviet france und manorexia

@ donaufestival krems

m

ichael head & the red elastic band

– artorius revisited ep & @ the kazimier

forest swords

– engravings

william basinski

– nocturnes

sachiko

– loka in the black ship

joana sá

– elogio da desordem

books

barbara kirchner

– die verbesserte frau

paul morley

– the north

david sedaris

– let's explore diabetes with owls

gonçalo m. tavares

– die versehrten

clarice lispector

– der lüster

m.p. shiel

– the house of sounds and others

joan didion

– the white album

paul morley

– earthbound

alexei sayle

– stalin ate my homework

doitsu center

– japanisch im sauseschritt
These New Puritans – Field Of Reeds
Diese Wandlungsfähigkeit hätte man einer Band names These New Puritans – die sich frei nach einem alten Mark E. Smith – Song taufte – eher nicht zugetraut. Allerdings, schon beim Debut – Beat Pyramid, 2008 – war schnell klar, dass TNP nicht einfach noch eine jener Bands waren, die ihr Seelenheil im Plündern von Post-Punk-Referenzen suchten: Numerologie als theoretischer Überbau, die Musik fragmentarisch, abstrahierend, gebrochen. Sie schafften es, die Subkulturmusiken der Großstädte mit Avantgarde in Einklang zu bringen bzw. gleich wieder in Frage zu stellen. Hidden von 2010 ließ dann gekonnt Stilmittel der klassischen Musik mit den Rhythmen und der Düsterniss von Dub Step, Minimal Techno und Dancehall aufeinanderprallen. Ständiges Säbelrasseln und spröde Krachgitarren.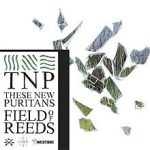 Field Of Reeds ist dann schon wieder eine ganz andere Geschichte; obwohl, Mastermind Jack Barnett komponierte in den letzten Jahren weiter fleißig und schrieb Partituren. Die Keyboarderin Sophie Sleigh-Johnson hat die Band (vorüberghehend?) verlassen und mit der portugiesischen Sängerin Elisa Rodrigues, die eigentlich vom Jazz kommt, aber hier, meist im Duett mit Barnett, etwas ganz anderes versucht, driftet die Band wieder in bislang unbekannte Gefielde ab. Die schroffen Rhythmen sind gänzlich verschwunden und die Melodien, meist von Streichern gespielt/getragen, stehen im Vordergrund. Als Produzent konnte Graham Sutton gewonnen werden, dessen schon einige Zeit zurückliegende Alben mit Bark Psychosis, eine logische Seelenverwandtschaft mit Field Of Reeds aufweisen. Barnett äußerte in einem Interview mit der portugiesischen Tageszeitung Público, dass er sich schon immer für andere Länder und Sprachen begeistern konnte und ihn die portugiesische, ohne sie zu verstehen, besonders anspräche. So sieht er die Interpretationen von Elisa Rodrigues auch im weitesten Sinne, d.h. ohne die charakteristischen Stilmittel zu kopieren, mit der luziden Entrückheit des Fados im Einklang.
These New Puritans, obwohl noch sehr jung, stehen nach drei Alben schon in der widerspenstigen, britischen Tradition von "lachenden Außenseitern" wie John Greaves, Gordon Sharp und Graham Sutton, was beileibe nicht die schlechteste Gesellschaft ist.