The Music Of JG Thirlwell
Für die bislang überzeugendste visuelle Umsetzung/Interpretation von J.G. Ballards The Atrocity Exhibition von Jonathan Weiss schrieb ein anderer J.G., nämlich Thirlwell, den Soundrack für diese Chronik über den mentalen Zusammenbruchs eines Arztes, der seine Patienten in eine Serie von bizarren Aufführungen einbindet. Ein Konstrukt des Filmes –  bestehend aus einem an einen Antennenmast montierten Stuhl, ein TV – Gerät, einer  Satellitenschüssel und einer Art Gartenzaun – steht immer noch auf dem Dach von Thirlwells Brooklyner Apartment.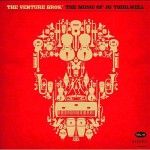 J. G. Ballard
'I sometimes think that in a sense we're entering a New Dark Age. The lights are full on, but there's an inner darkness…because we're retreating into a sort of mind-set of our pre-rational forebears who lived in a kind of animist world where everything had a spirit – every twig, every stone in a stream… where questions of guilt and anxiety and fear and aggression ruled our reflexes.
It's an extraordinary development that someone working on the forefront of advanced science and technology should on Sunday put on a different hat, go off and listen to fables spun about a Palestinian resurrection cult 2000 years ago. It's bizarre, in a way.' (JGB, conversation with V. Vale, Graeme Revell)