DDAA – Pourriture Cubique
John Avery – Jessica In The Room Of Lights
Ruth & Mushy – Far From Paradise
Mushy – Breathless
Thierry Müller / Aaron Moore – Today Is Yesterday's Tomorrow
Dass sich die drei Mitglieder von Déficit Des Années Antérieures bzw. DDAA – Jean-Luc André, Sylvie Martimeau-Fée, Jean-Philippe Fée bzw. JLA, SMF, JPF – in erster Linie als plastische Künstler, auch hinsichtlich ihres Wirkens als Musiker, verstehen, ist kein Widerspruch. Die Musik des Künstlerkollektivs, dass sich an der Akademie in Caen Ende der 1970er kennenlernte, vereint deren unterschiedlichen Vorlieben und Ideen aus Kunst, Literatur und Klangskulpturen. Über einen Improvisationsprozess modellieren sie dann diese so minimalistischen wie dichten Klanghörspiele zur unverkennbaren Marke DDAA.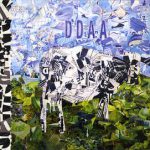 The Music Of JG Thirlwell
Für die bislang überzeugendste visuelle Umsetzung/Interpretation von J.G. Ballards The Atrocity Exhibition von Jonathan Weiss schrieb ein anderer J.G., nämlich Thirlwell, den Soundrack für diese Chronik über den mentalen Zusammenbruchs eines Arztes, der seine Patienten in eine Serie von bizarren Aufführungen einbindet. Ein Konstrukt des Filmes –  bestehend aus einem an einen Antennenmast montierten Stuhl, ein TV – Gerät, einer  Satellitenschüssel und einer Art Gartenzaun – steht immer noch auf dem Dach von Thirlwells Brooklyner Apartment.