Krèms Brûlée – Ein Abend beim Donau-Festival
Mark Stewart, Manorexia, Matin Rev, Zoviet France, Girls Against Boys, David Yow
Die inzwischen auch schon neunte Ausgabe des Donau Festivals in Krems, dessen Programm jeweils über zwei verlängerte Wochenenden angelegt ist, stand heuer unter dem, zugegeben, etwas verhaltensoriginellen Motto Krèms Brûlée. Der Anspruch und das Versprechen, innovative Kunstformen zwischen anerkannter Avantgarde und Subkultur in unterschiedlichen Kontexten zu präsentieren und Bühne für sowohl querdenkende Frischlinge wie verdiente Underground-Haudegen zu bieten, wurde 2013 allerdings mehr denn je eingehalten. Auch der "time table" war aufgrund der im Vergleich zu den vergangenen Jahren beinahe verdoppelte Anzahl eingeladener Künstler sehr eng gehalten. Einer der Schwerpunkte, performative Kunstformen jenseits des Theaters, die im Kontext zu bildender Kunst und Aktionismus agieren, wurde an den diversen Spielorten z.B. von Hans Peter Litscher, Saint Genet, Miasma oder Teresa Margolles (bleibend in Erinnerung ist mir ihre MMK-Austellung in Frankfurt, in der u.a angeblich von Leichenwaschungen gewonnenes Wasser durch den Raum dampfte. Hier variierte sie ihr Thema mittels einer Performance. Vier Nachkommen der Maya sprachen über ihre Gewalterfahrungen und bestickten ein Tuch, das zuvor Flüssigkeiten eines ermordeten Drogenkriegopfers absorbiert hatte).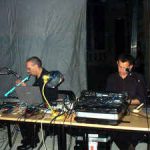 The Music Of JG Thirlwell
Für die bislang überzeugendste visuelle Umsetzung/Interpretation von J.G. Ballards The Atrocity Exhibition von Jonathan Weiss schrieb ein anderer J.G., nämlich Thirlwell, den Soundrack für diese Chronik über den mentalen Zusammenbruchs eines Arztes, der seine Patienten in eine Serie von bizarren Aufführungen einbindet. Ein Konstrukt des Filmes –  bestehend aus einem an einen Antennenmast montierten Stuhl, ein TV – Gerät, einer  Satellitenschüssel und einer Art Gartenzaun – steht immer noch auf dem Dach von Thirlwells Brooklyner Apartment.