Ed Sanders – Yiddish Speaking Socialists Of The Lower East Side
Eloïse Decazes & Delphine Dora – Folk Songs Cycle
Die eigenwilligen und schön gestalteten Produktionen von Okraïna – allesamt 10" Inches, die die Handschrift der Illustratorin und BD-Künstlerin Gwénola Carrére tragen – weisen zwei neue Kleinode im Labelkatalog auf.
Philippe Delvosalle ist es gelungen, Ed Sanders, den Grandfather des US-amerikanischen Außenseitertums, für ein Projekt zu gewinnen. Die Fugs und deren freiwilligen und unfreiwilligen Zeitgenossen und Nachfolger stehen in der Summe für vieles, worauf sich auch Okraïna – das Label und die Veranstalter für außergewöhnliche Konzerte in und um Brüssel – berufen.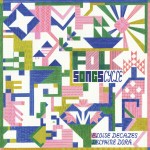 Das belgische Label Okraina
Philippe Delvosalles Label Okraina bezieht sich auf Boris Barnets gleichnamigen Film von 1933, einem, was Bildschnitt und Tonstruktur anbelangt, wegweisenden Werk. Der sowjetische Regiesseur erzählt Alltagsbegebenheiten, die sich in einem Quatier am Rande einer Großstadt abspielen, während im Hintergrund der 1. Weltkrieg ausbricht. Okraina bedeutet im Deutschen auch Stadtrand oder Peripherie. Dies ist neben der cineastischen Inspiration auch der Link bei der Namensfindung des Labels gewesen, wurden doch die Aufnahmen für die bisherigen drei ausgezeichneten Veröffentlichungen, unter anderem in der als Künstlerresidenz fungierenden Caveau Sauvage vor den Toren Brüssels in Leuwen und in Ghent während Liveauftritten eingespielt.