Veronica Falls – @ Noumatrouff Mulhouse
Haiku Salut – Tricolore
Strange Idols – Idolatry
Bona Dish – The Zaragoza Tapes
The Pastels – Slow Summits
Cherry Red veröffentlicht diese Tage eine opulente 5 CD-Box – Scared To Get Happy, A Story Of Indie Pop 1980 – 89 -, die sich der exklusiv britischen, vom Glasgower Postcard Records und Alan Horne einige Jahre zuvor kreierten, mit Theorie und Romantik aufgeladenen Facette des Post-Punks widmet. Der allgegenwärtigen Trostlosigkeit jener Zeit setzte man den Sound Of Young Scotland bzw. dann Young Britain entgegen: die Annäherung an den idealen Popsong, gespielt mit der Energie des Punks.
Dem Londoner Quartett Veronica Falls, das angesichts der Livepräsentation des zweiten Albums Something To Happen auch im Mulhouser Noumatrouff konzertierte, darf nicht unterstellt werden, dem Genre Artpop revolutionär Neues hinzufügen zu wollen.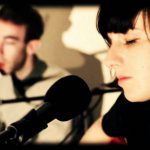 Go Kart Mozart – On The Hot Dog Streets
Malka Spigel – Every Day Is Like The First Day
Ob Pulp die letzte letzte klassische Art School – Band war, die der Arbeiterklasse entsprang und noch etwas Relevantes zu sagen hatte, wie der Architekturkritiker Owen Hatherley in seiner liebenswert unprätensiösen Hommage Uncommon  (Zero Books ) behauptet, ist vielleicht nur der Affinität des Autors geschuldet, aber unbezweifelbar schrieb Jarvis Cocker , insbesondere auf  His 'N' Hers und Different Class noch über  komplexe Themen (Klassensystem, Geschlechterkampf, Acrylhemden… ).