DDAA – Pourriture Cubique
John Avery – Jessica In The Room Of Lights
Ruth & Mushy – Far From Paradise
Mushy – Breathless
Thierry Müller / Aaron Moore – Today Is Yesterday's Tomorrow
Dass sich die drei Mitglieder von Déficit Des Années Antérieures bzw. DDAA – Jean-Luc André, Sylvie Martimeau-Fée, Jean-Philippe Fée bzw. JLA, SMF, JPF – in erster Linie als plastische Künstler, auch hinsichtlich ihres Wirkens als Musiker, verstehen, ist kein Widerspruch. Die Musik des Künstlerkollektivs, dass sich an der Akademie in Caen Ende der 1970er kennenlernte, vereint deren unterschiedlichen Vorlieben und Ideen aus Kunst, Literatur und Klangskulpturen. Über einen Improvisationsprozess modellieren sie dann diese so minimalistischen wie dichten Klanghörspiele zur unverkennbaren Marke DDAA.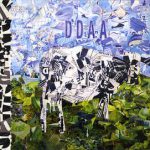 Go Kart Mozart – On The Hot Dog Streets
Malka Spigel – Every Day Is Like The First Day
Ob Pulp die letzte letzte klassische Art School – Band war, die der Arbeiterklasse entsprang und noch etwas Relevantes zu sagen hatte, wie der Architekturkritiker Owen Hatherley in seiner liebenswert unprätensiösen Hommage Uncommon  (Zero Books ) behauptet, ist vielleicht nur der Affinität des Autors geschuldet, aber unbezweifelbar schrieb Jarvis Cocker , insbesondere auf  His 'N' Hers und Different Class noch über  komplexe Themen (Klassensystem, Geschlechterkampf, Acrylhemden… ).