film/tv

Pedro Costa

– Cavalo Dinheiro

Spike Jonze

– Her

Richard Ayoade

– The Double

Nic Pizzolatto

– True Detective

Steven Soderbergh

– The Knick

Ayumi Sakamoto

– Forma

Steve James

– Live Itself

Hirobumi Watanabe

– And The Mud Ship Sails Away

Jonathan Glazer

– Under The Skin

Armando Ianucci

– Veep

Season 3

Kieran Evans

– Kelly & Victor
Homeland

Season 4

The Good Wife

Season 6

Allan Cubitt

– The Fall

Season 2

Adam Bernstein

– Fargo

Tom Shankland

– The Missing

Peter Berg

– The Leftovers

music

Keiji Haino

– Experimental Mixture

Mica Levi

– Under The Skin

OOIOO

– Gamel

James Blake

– Overgrown

Dirty Beaches

– Stateless

Carla Bozulich

– Boy

Veronique Vincent & Aksak Maboul

– Ex Futur Album

Drew Mulholland

– The Norwood Variations

Sei Miguel

– Salvation Modes

Virginia Wing

– Measures Of Joy

Jim O' Rourke

– Steamroom (Series)
live:

Big Rain featuring Keiji Haino

@ Gulbenkian
live:

Excepter

@ ZDB
 
live: 

Albert Marcoeur

@ Méteo
live: 

Young Marble Giants

@ Dancehouse Theatre
live: 

Teardo/Bargeld

@ Palmengarten

books

Michel Serres

– Erfindet euch neu!

Marcel Proust

– Auf der Suche Nach Der Verlorenen Zeit

Herberto Helder

– Os Passos Em Volta und Photomaton & Vox

Viv Albertine

– Clothes, Music, Boys

Stefan Zweig

– Die Welt von Gestern. Erinnerungen eines Europäers
 

Bernhard Weber-Brosamer/Dieter M. Back

– Die Philosophie der Leere

Alexander R. Galloway

– The Interface Effect

Colson Whitehead

– Zone One

Dave Eggers

– The Circle

Molly Jane Quinn/Jenna Talbot

– It's lonely in the modern world
Saint Ghetto 2011
Jeweils drei Tage im November wird die Berner Dampfzentrale einmal nicht von Tanztheatern, Performances und Discoveranstaltungen, sondern von anders veranlagten, gerne auch Gestalten der schrägeren Art, heimgesucht. Saint Ghetto heißt das Festival, dessen Programm dieses Jahr zum vierten Mal von Christian Pauli und Roger Ziegler hochkarätig zusammengestellt wurde. Nur Marc Almond gesellte sich dieses Mal zur Ahnengalerie der wegweisenden und genreerfindenden Künstler aus einer anderen Zeit, die man in den vergangenen Jahren erleben durfte, u.a. Brigitte Fontaine, Hermine, The Residents, The Fall, Nurse With Wound, Little Annie, Chédalia Tazartès. Ansonsten hieß das Konzept: Gegenwartsmusik (wenn das auch, angesichts des plunderphonigen Zitierens beinahe aller Künstler oft theoretischer Ansatz bleiben musste).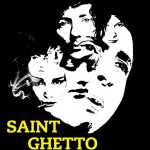 Read the rest of this entry »