Gilroy Mere – The Green Line
The Hardy Tree – Through Passages Of Time
Jon Brooks – Autres Directions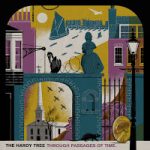 Das London, das man noch in den 1980ern als eine heterogene architektonische Mischung aus viktorianischen Prachtbauten, typischen Reihenhaussiedlungen, brutalistischen Nachkriegs-Towerblocks und urbanen Brachflächen – die Hinterlassenschaft der Bombenangriffe aus dem Zweiten Weltkrieg oder später aufgrund Verwahrlosung entstanden – kannte, ist längst passé.
Fragmentarisch und widersprüchlich wirkte die Stadt damals an vielen Ecken; ein Moloch, der noch Platz ließ für andere Lebensweisen als der kapitalistischen. Squatting ist kein Thema mehr in London, Obdachlosigkeit aber mehr denn je; die Kreativität wird beinahe ausschließlich dafür aufgewendet, einen bezahlbaren Wohnraum zu finden und die Lösung ist oftmals die, dass man sich zu Dritt eine 1-Zimmer-Wohnung teilt und in Schichten schläft. Die Halb-Wildnis des East Ends oder South Londons wurde unter dem Deckmantel von Urban Regeneration Schemes in eine von Luxuswohnungen und Malls verwandelt. Das sind alles keine Neuigkeiten, banale Fakten.
Veronica Falls – @ Noumatrouff Mulhouse
Haiku Salut – Tricolore
Strange Idols – Idolatry
Bona Dish – The Zaragoza Tapes
The Pastels – Slow Summits
Cherry Red veröffentlicht diese Tage eine opulente 5 CD-Box – Scared To Get Happy, A Story Of Indie Pop 1980 – 89 -, die sich der exklusiv britischen, vom Glasgower Postcard Records und Alan Horne einige Jahre zuvor kreierten, mit Theorie und Romantik aufgeladenen Facette des Post-Punks widmet. Der allgegenwärtigen Trostlosigkeit jener Zeit setzte man den Sound Of Young Scotland bzw. dann Young Britain entgegen: die Annäherung an den idealen Popsong, gespielt mit der Energie des Punks.
Dem Londoner Quartett Veronica Falls, das angesichts der Livepräsentation des zweiten Albums Something To Happen auch im Mulhouser Noumatrouff konzertierte, darf nicht unterstellt werden, dem Genre Artpop revolutionär Neues hinzufügen zu wollen.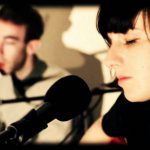 Dolly Mixture -Everything And More

Margaret Thatcher war in den 1980ern in Großbritannien indirekt um die Förderung der Subkultur besorgt. Anstatt einem nicht mehr vorhandenen Fabrikjob nachzujagen, bot sie dem Menschen on the dole die Möglichkeit eines staatlichen Förderungskredits, um damit eine eigene Firma zu gründen, was als Nebenerscheinung zur Folge hatte, dass zahlreiche Musiker ihr eigenes Independent-Label gründeten. Cordelia Records war ein Paradebeispiel. Deren Katalog hatte neben den eigenen Bands für einige Zeit allerhand Obskures zu bieten. Das Fireside – Minialbum von Dolly Mixture, 1986 erschienen, eine leicht melancholische Mischung von Kammer- und Hausmusik, vorgetragen von drei sympathischen, sehr englisch aussehenden jungen Frauen, ist diesbezüglich noch in bester Erinnerung. Aber diese handvoll Songs sollten schon den Schlußpunkt der 'Karriere' dieser weitgehend undokumentiert gebliebenen Band bilden.