The Wild Swans – English Electric Lightning

Liverpool ist seit jeher berühmt dafür, dass Aufstieg und Niedergang nicht weit auseinanderliegen und auch Lebensläufe sich plötzlich radikal verändern können. Auf die Musik bezogen, gehört es dort zum guten Stil hoch talentiert zu sein, kommerziell unter seinen Möglichkeiten zu bleiben und bezüglich aktuellen Moden auf einem anderen Planeten zu wandeln.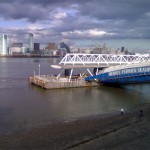 Anfang der 80er, als die ganze Stadt wirtschaftlich vor dem Bankrott stand und Ms. Thatcher der traditionell linken Stadt den Rest gab – in Toxteth entlud sich die zusätzliche Unruhe in Aufständen – reagierte die Musikszene wiederum typisch Liverpoolisch. Anstatt wie in den anderen großen Städten Englands mit politisch motiviertem Punk der Wut Ausdruck zu verleihen, wählte man den Weg des Eskapismus. Die Musik klang bohèmehaft, im angesagtesten Club, Eric's, eiferten die Bands den psychedelischen Experimenten amerikanischer 60er Bands wie Love oder großen, sophistikaten Croonern wie Scott Walker nach. Während aber einige um Bill Drummonds Zoo-Label gepushten Gruppen wie The Teardrop Explodes, The Wah! und Echo & The Bunnymen mit den charismatischen Protostars Julian Cope, Pete Wylie und Ian McCulloch, trotzdem sie Musik gegen den Trend propagierten, durchzustarten schienen (nur, um ihre Karrieren – siehe oben – wieder zu versemmeln), blieben andere mit gleichem Talent merkwürdigerweise außen vor. Paul Simpson ist so ein Fall (dem großartigen Michael Head sollte später ein ähnliches Schicksal beschieden sein – das dann in einer anderen Mikrowellen-Geschichte). Mit der famosen Zoo-Single 'Revolutionary Spirit' 1980 einiges versprechend, brauchte es sieben Jahre bis zu The Wild Swans Debut-Album 'Bringing Home The Ashes' ; zwei Jahre später erschien dann noch 'Space Flower'. Beide Alben ruinierten beinahe Simpsons Songwritertalent durch sterile, dumpfe Produktionen ('Space Flower' trägt die Ian Broudie – Handschrift dieser Zeit, der nebenbei auch Michael Heads 'Zilch' – Album mit Shack beinahe das gleich Schicksal wiederfahren ließ). Nun, 21 Jahre später, hat Paul Simpson immer noch an diesem 'Trauma' zu knabbern. Mit u.a. den alten Weggefährten Ged Quinn (Ex-Teardrops, nun ein renommierter Maler) und Mike Mooney, den er bei den Toxteth-Aufständen kennenlernte, versucht er den damaligen Geist und die Musik, die 'in seinem Kopf ist', doch noch zu realisieren. Ein Album soll später, was das in der Liverpooler Terminologie heißt soll unkommentiert bleiben, erscheinen. Haptisch greifbar ist aber eine 10' Inch ('The English Electric Lightning / The Coldest Winter for A Hundred Years', ocultation) und The Wild Swans werden ihrem Anspruch diesmal gerecht. Mit 'English Electric Lightning' fügt Simpson eine weitere klassische Liverpool-Hymne zum umfangreichen Kanon hinzu, grossangelegtes Songwritertum, melodisch und natürlich völlig abseits irgendwelcher Trends.
'In the madness of my 3ams I'm lost without a guide
English Electric Lightning protected
Green unpleasant land infected
Vulcan bombers, Cornish harbours
Elizabethan costume dramas
Sun reporters, New World Order,
Johnny Rotten, Geoffry Chaucer,
Bargain Booze and Robert Wyatt
Happy-Sleepers, Toxteth riots'
'The Coldest Winter For Hundred Years' dagegen ist ein siebeneinhalbminütiges Spoken Word – Stück, von Piano und Gitarre begleitet, und eine autobiographische Observation aus der Zeit, in der er mit Pete De Freitas in einem heruntergekommen Flat zusammenwohnte und sich kommende oder Möchtegern-Popstars, Träumer und Wahnsinnige die Klinke in die Hand gaben. Heutzutage hört man solche Musik von den Tindersticks, die es gleichfall schaffen, den Widerspruch einer Verbindung von Pathos und Sprödheit in ihrer Musik zu pflegen.